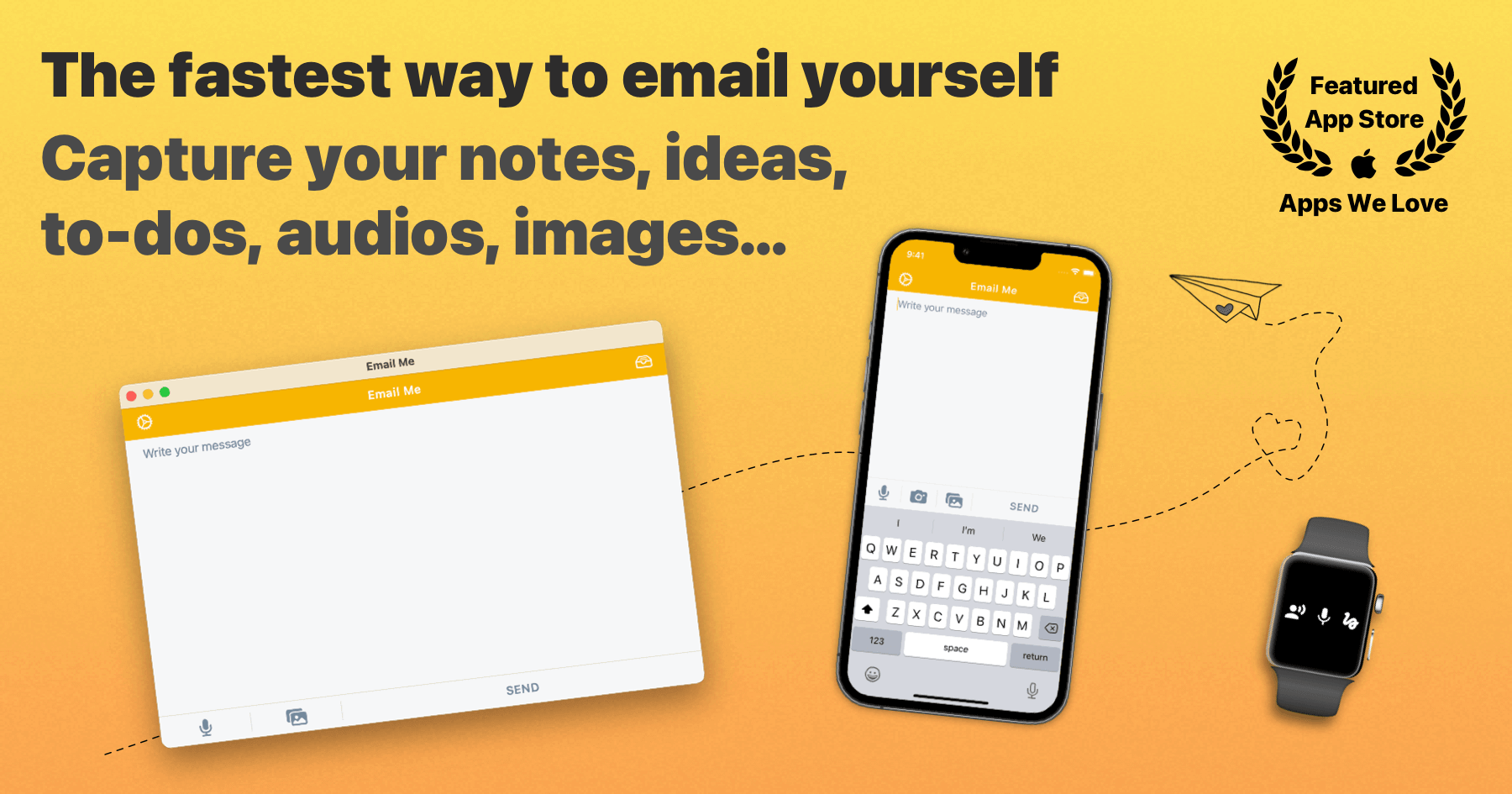 Introduction TL;DR
Email Me is designed to be the fastest way to record your thoughts, to-dos, and follow-ups when you're on the go. It's the easiest and fastest way to email something yourself so you will never forget things again. Ever.
Description
Email Me focuses on a single task which is sending something important to yourself by providing the best user experience. It is fast and reliable. The reason to send something important to yourself could be because you want to check it out later, save it in your email inbox as a task or simply send it to somebody else after that.
There are many different uses the App can have. The most basic one is just opening the App, typing a note and then tapping on send. The note arrives right away in your inbox. Another use is the Share Extension. You can send yourself a link or article from another App in two taps and I read it later on when you have the extra time.
Power users will enjoy faster access to Email Me with Siri Shortcuts integrations, Today Extension Widget, and the Share and Action Extension. Email Me features over 6 custom themes with different screen icons, including a new brand Focus theme that is designed to help the users focus on what they need to write down.
Apple Watch App is designed to send yourself an audio or text note from your wrist.
Email Me provides is a best in class App with the best in class support. Available for free to download on the App Store (https://apps.apple.com/us/app/email-me-notes-in-one-tap/id1090744587) and it offers a monthly subscripon for $1.99, a yearly subscription for $9.99 and a lifetime access in-app purchase of $24.99.
Core Features and Benefits
- Send notes to your email in one tap
- Send images from the Camera Roll in one tap
- Send audio notes
- Send your clipboard content in one tap
- Supports multiple recipients with multiple email addresses
- Supports iOS Widgets
- Supports iOS App Extensions
- Universal App
- Multiple custom App icons and themes
- SiriKit custom shortcuts
Share Extension / Action Extension
- Share a link from Safari in one tap
- Share a text from a Website in one tap
- Share an image with one tap from the Action Extension
- Share extension supports main App Store apps
Apple Watch
- Standalone Watch App
- Watch App Complications for every Complication type
- Send text notes in one tap
- Send audio notes in one tap
Easy to configure
- Set predefined email addresses
- Set predefined subject prefix if desired
- Set predefined email signature if desired
- Set an email alias
- Set the reply-to email address
Accessibility
- Accessibility labels app-wide for VoiceOver
- Supports dynamic text sizing
- Supports sounds and vibration feedback
- Supports dark mode
- Custom CoreHaptics for precise haptics
- Reduce motion accessibility checks within the app, which automatically reduces motion
Important
- Send an unlimited number of emails
- Notes are delivered to your email inbox instantly
- No data collected or shared with third parties, at all
- Email Me supports two URL schemes:
- EmailMe://?message=Hello
- emailme://hello
Availabilit & Pricing
Email Me is available in all territories that the App Store supports. It has been internationalized and is fully localized for Spanish, Swedish and English speaking countries with more support for other languages to follow.
Email Me It's a free download with in-app purchases.
Monthly subscription: $1.99
Yearly subscription: $9.99
Lifetime: $24.99
Family sharing is enabled for all the in-app purchases.
About the Developer
Hello, my name is Manuel Escrig and I'm the person behind Email Me. I'm an indie developer trying to build a sustainable business by building a best in class productivity App for productivity geeks like me. You can read more about me here (https://www.emailmeapp.net/about).
Any Questions?
If you have any questions at all, please don't hesitate to contact me at info(at)emailmeapp.net. I'm happy to answer anything!